About the Area
|
Washington, DC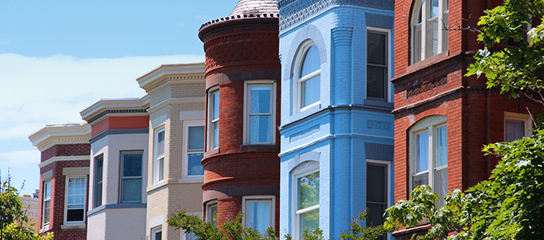 16th Street Heights
In the Northwest Washington, D.C. neighborhood of 16th Street Heights, real estate opportunities are as diverse as the mix of ethnic and socio-economic residents. The neighborhood boundaries are roughly defined as Missouri Avenue to the north, Spring Road to the south, 16th Street to the west, and Georgia Avenue to the east. Its nearest Metro station is Georgia Avenue-Petworth, although many residents enjoy an easy commute by bus to the city's center.
Sixteenth Street Heights real estate includes historic Craftsman bungalows and newly renovated homes. The hustle and bustle of the main commercial corridors along 14th Street and Georgia Avenue are tempered by the natural beauty of two nearby parks, Hamilton and Upshur. These popular mixed-use green spaces are maintained by the Friends of the 16th Street Heights Parks, a nonprofit advocacy group that seeks to improve the parks through national grants. Nearby Rock Creek Park is also a popular destination for residents in 16th Street Heights. Real estate in this popular in-town neighborhood is always an attractive option for those looking to live in the nation's capital.
Adams-Morgan
If you are thinking of buying a home in Washington, D.C., put Adams Morgan real estate on your list of possibilities. The heart of this bustling, trendy neighborhood, established in the late-1950s, lies at the crossroads of Columbia Road and 18th Street in Northwest D.C. Considered the center of D.C.'s Latino community, Adams Morgan real estate is actually home to residents from more than thirty nations.
Apartment buildings and rowhouses from the late 19th century characterize Adams Morgan real estate. Residents are served by the Woodley Park-Zoo/Adams Morgan Metro station on the red line.
Ethnic restaurants line the five blocks that make up the neighborhood's commercial corridor, offering cuisine from countries as wide-ranging as Peru, Israel, India, and Thailand. And each year, the diversity of Adams Morgan real estate owners is celebrated with the Adams Morgan Day Festival, which attracts more than 24,000 attendees with its sprawling collection of food, crafts, and live music. Named after two schools, Adams Elementary School and the now-defunct Morgan Elementary School, the neighborhood is known for its vibrant nightlife, which rivals more traditional city haunts like Dupont Circle and Georgetown.
American University Park
Named for the 84-acre American University it surrounds, American University Park is home to an upscale residential neighborhood of mostly single-family homes in Northwest Washington, D.C. American University Park real estate is nestled among wooded hills – some of the highest in the city – with nearly 2,700 homes, typically mid-size brick colonials featuring shady porches and fronting tree-lined streets.
In the 1990s, American University Park real estate values soared, spurred by an influx of young families looking for an affordable alternative to the city's pricier neighborhoods. Today, turnover is rare and many families choose to add on to their existing homes rather than move out of this beloved neighborhood. American University Park real estate's desirability is further enhanced by its proximity to two major shopping corridors, along Wisconsin and Massachusetts Avenues, and its accessibility via the Tenleytown-AU Metro Station.
Capitol Hill
Capitol Hill, one of the oldest residential communities in Washington, D.C., takes its name from the hill that rises in the center of Washington and extends eastward. Stretching behind the U.S. Capitol Building, Capitol Hill real estate started with a small boarding house for members of Congress. Today, this historic district is made up of more than 150 square miles and diverse neighborhoods.
Capitol Hill real estate sits in Southeast and Northeast Washington, D.C. It is bounded by the Anacostia River to the east, the Southeast/Southwest Freeway and Washington Navy Yard to the south, and H Street to the north. Every year the Capitol Hill Restoration Society holds a popular house and garden tour. Residents and visitors alike take to the community's brick sidewalks to view the Richardsonian, Beaux-Arts, Queen Anne, and Federal architecture representative of Capital Hill. Capital Hill real estate offerings also include luxurious townhouses built in recent years.
Capitol Hill real estate is becoming an ever-more popular choice for people looking to buy homes in Washington DC. Real estate investors and home buyers alike will find an attractive selection of industrial property, commercial real estate, and homes for sale.
Chevy Chase (Washington)
One of the most well-known suburbs in the D.C. Metro Area, Chevy Chase real estate continues to be some of the most sought after property in the District. Sharing a state line with its Maryland counterpart, Chevy Chase D.C. real estate is full of well-to-do civil servants, contractors, nonprofit workers, and others making their living in Washington. Chevy Chase real estate boasts tree-lined streets with kempt lawns and a strong community spirit. Whether looking to raise a family or just for a quieter spot within Washington, Chevy Chase tops the list of places to be.
The majority of Chevy Chase real estate owners work in Washington. Thanks to its location along Connecticut Avenue, driving commuters have a straight shot into downtown. As for homeowners choosing to use Washington's excellent transit system, Chevy Chase real estate is near metro stops in Friendship Heights, Tenleytown, and Van Ness. To cut down even further on public transit time, a number of public buses have stops within the neighborhood.
With excellent schools and a wealth of single family homes, Chevy Chase real estate was built for raising children. Highlights include Lafayette Elementary and Woodrow Wilson Senior High. Woodrow Wilson recently underwent a 5 year renovation, now boasting a number of new academic and athletic facilities. Chevy Chase is also close to the private Sidwell Friends School, referred to as "the Harvard of Washington's private schools" by the New York Times. With admission based on merit, Sidwell is a top school for gifted students, including the children of several U.S. Presidents.
As for shopping, two nearby areas provide for the majority of Chevy Chase real estate owner's needs. Chevy Chase Circle is known as the more classic and homely shopping district while Friendship Heights provides a more urban and trendy selection of stores. A section of the bustling Connecticut Avenue also calls Chevy Chase real estate home, giving the community its own commercial district. As for the outdoors, when the beautiful streets aren't enough, Chevy Chase real estate owners turn to Rock Creek Park, Livingston Park, or Lafayette Park to get back into nature.
Cleveland Park
Washington DC residents are attracted to Cleveland Park real estate due in large part to the extensive green space surrounding the neighborhood. Named for Grover Cleveland, who briefly owned a summerhouse in the area, Cleveland Park real estate is located in Northwest D.C. It is served by the Cleveland Park Metro Station, on Metro's red line.
Much of Cleveland Park's real estate dates back to the turn of the 19th century and reflects a broad mix of architectural styles, including Victorian, Queen Anne, Classical Revival, and Mission. In 1987, the neighborhood was designated a Historic District, thanks in large part to the efforts of both the Cleveland Park Historical Society and Cleveland Park real estate owners. Even the neighborhood's low-rise commercial corridor along Connecticut Avenue boasts several historic buildings, like the 1916 firehouse and the 1930 Park and Shop strip mall. Perhaps the most well known, however, is the Uptown Theater, an Art Deco movie palace built in 1936 whose single screen still attracts more than 200,000 moviegoers annually.
Colonial Village
Colonial Village real estate sits in Washington, D.C.'s northernmost tip. Made up of just 612 homes, the charming neighborhood's boundaries are roughly defined as the Maryland—D.C. border to the north, 16th Street to the east, and Rock Creek Park to the west and south. The Silver Spring Metro Station, located in downtown Silver Spring, is easily accessible.
Descriptions of Colonial Village real estate options range from "lovely and peaceful" to "extraordinarily suburban in character," thanks to its winding, hilly streets and large, landscaped lots. Neighborhood traffic is limited by the lack of thru streets, and parks and greenspaces abound. For many residents, however, the appeal of Colonial Village real estate is the neighborhood's tight-knit community. Two circles serve as informal social centers for the neighborhood, which often gathers for popular community events like the annual Christmas Eve caroling.
Columbia Heights
Columbia Heights real estate is home to an economically and ethnically diverse community in Northwest Washington, D.C. It is bordered by Spring Road to the north, Florida Avenue to the south, Georgia Avenue to the east, and 16th Street to the west. Columbia Heights real estate is also neighbored by such communities as Shaw, Adams Morgan, and Petworth. Columbia Heights real estate owners and residents are served by the Columbia Heights Station, which is located on Metro's green and yellow lines.
Despite suffering a period of decline sparked by the 1968 riots, the neighborhood has recently begun to experience a promising revival. As a result, Columbia Heights real estate is booming. In 2008, a 546,000-square-foot retail complex was built across from the metro station, bringing not just shopping and dining but also jobs to Columbia Heights real estate owners. In addition, several condo complexes have been erected along the neighborhood's 14th Street corridor, in response to the increased demand for housing. Not surprisingly, the inspiring revitalization of Columbia Heights real estate has garnered considerable attention from homebuyers priced out of Washington DC's trendier neighborhoods.
Dupont Circle
Dupont Circle real estate, located in Northwest Washington, D.C., is always in demand. The vibrant neighborhood is named for the traffic circle at its center. Its borders are roughly defined as 22nd Street to the west, 15th Street to the east, Florida Avenue to the north, and M Street to the south. Dupont Circle real estate owners and residents are served by the Dupont Circle Station, which is located on Metro's red line. Dupont Circle real estate includes many classically styled, early 20th century rowhouses.
Dupont Circle is well known for its active, youthful community and its colorful nightlife. Neighborhood streets are lined with chic bars, fashionable fine dining establishments, and eclectic, locally owned shops. Its hip, downtown scene and its accessibility via Metro also make Dupont Circle real estate a popular investment among young professionals working in the nation's capital. In short, if you want to live in a place to see and be seen, Dupont Circle real estate is a sure bet.
Forest Hills
Forest Hills real estate is bounded by Broad Branch Road to the north and east, the National Zoo to the south, and Connecticut Avenue to the west. This charming residential neighborhood located in Northwest Washington, D.C. is served by the Van Ness—UDC Metro Station and is often considered part of the much larger Van Ness neighborhood.
Forest Hills real estate is known for its unique blend of architectural styles. Quaint Tudors and Colonials share space with art-deco homes and modern apartment buildings, while modest Cape Cods dating back to the 1950s fill in the spaces between. The neighborhood's natural beauty is enhanced by its proximity to Rock Creek Park, which runs the length of its eastern border and beyond. It is also well preserved by a number of conservation groups that regulate construction fronting the park. Forest Hills real estate is prime for investors and people looking for homes for sale.
Foxhall
Groups of adjoining Tudor homes are the hallmark Foxhall real estate. This upper class middle class neighborhood is tucked between Foxhall and Reservoir Roads and 44th Street NW, next to Glover Archbold Park in Washington. The lack of substantial through streets keeps Foxhall real estate off the beaten path, which affords residents a quiet and peaceful setting.
Foxhall real estate is becoming an ever-more popular choice for people looking to buy homes in Washington, D.C. There are plenty of historical and cultural attractions in D.C. and a growing stock of good housing. Foxhall is a highly desirable place to buy a home or invest in real estate.
Friendship Heights
Friendship Heights real estate is always a popular option for those looking to live in Washington, D.C. Friendship Heights is an affluent residential and commercial neighborhood that straddles the border of northwest Washington, D.C. and southern Montgomery County, MD.
Upscale shopping is synonymous with Friendship Heights. The area is well-known for its two popular shopping plazas, Chevy Chase Pavilion and Mazza Gallerie, which combined offer more than 440,000 square feet of retail and dining. Three more retail destinations – the Chevy Chase Center, the Collection at Chevy Chase, and Wisconsin Place – are currently in development. And no fewer than three grocery stores, all within close proximity, serve the neighborhood's residents, with a fourth soon to be added. In addition, much of Friendship Heights' real estate for home buyers is located in mixed-use buildings, like the proposed seven-story Akridge development, which will combine 13,000 square feet of retail with seventy new condominiums.
Georgetown
Georgetown is a popular, stylish Washington neighborhood that originated as a tobacco port in the 17th century. In addition to its prominent university, Georgetown real estate boasts a number of historic homes, many of which are now public museums, as well as the embassies of France, Mongolia, Sweden, Thailand, and the Ukraine. Several well-known national figures, politicians, and scores of prominent Washingtonians also call Georgetown real estate home.
Georgetown real estate owners enjoy an unparalleled lifestyle in the nation's capital. Frequent weekend activities among residents and visitors alike include touring historic homes and gardens, perusing the renowned pre-Columbian artifacts at Dumbarton Oaks, and strolling along the picturesque C&O Canal.
People also flock to Georgetown real estate to visit the countless chic shopping and dining establishments along the commercial corridors on Wisconsin Avenue and M Street. Designers Betsey Johnson, Hugo Boss, Kate Spade, and Ralph Lauren, among others, all have a presence here. You will also find restaurants, from American to Vietnamese cuisine, to satisfy every palate. In addition, there are several dining options along the Potomac River, which serves as the southern border of Georgetown real estate.
Hillcrest
Hillcrest real estate is ideal for people looking for a Washington, D.C. neighborhood with a more suburban, rather than urban, feel. To wit, it was touted as a "Great Place to Live" by Washingtonian Magazine in 2004. Home to an affluent residential community overlooking the Anacostia River. Hillcrest real estate is bounded by Pennsylvania Avenue to the northeast, 34th Street to the west, and Southern Avenue to the southeast. About one third of Hillcrest is occupied by the 376-acre Fort Dupont Park, a former Civil War earthwork that is now the site of the popular Fort Dupont Summer Concert Series.
One of the biggest draws to Hillcrest real estate is its altitude. At 300 feet above sea level, residents of the neighborhood's Colonial, Cape-Cod, and Tudor homes enjoy stunning views of both Capitol Hill and Maryland's Oxon Run Valley. Another appeal is the overall safety of the neighborhood, due in large part to Hillcrest's Neighborhood Watch program. Started in 1980 by concerned residents, the program now serves as a model for communities all over the nation.
LeDroit Park
LeDroit Park real estate, in a historic neighborhood located in Northwest Washington, D.C., features Victorian-styled homes along tree-lined streets. The neighborhood's identity has been nearly inseparable from that of nearby Howard University since its development on forty acres of land purchased from the university in 1873.
Today, the LeDroit Park real estate landscape is the beneficiary of the LeDroit Park Initiative, an aggressive revitalization effort spearheaded by Howard that seeks to bring subsidized housing to both university and city employees. Future plans include the conversion of twenty-five acres of McMillan Reservoir into a public park and mixed-use town center as well as the creation of an "Electronic Village" that would bring high-speed Internet access to area homes. This impressive and ongoing revival, combined with easy access via the Shaw-Howard University Metro Station, ensures a bright future for LeDroit Park real estate investors.
Logan Circle
Named for the traffic circle at its center, Logan Circle real estate is located in a trendy neighborhood made up of fifty square blocks in Northwest Washington, D.C. Prior to 2000, Logan Circle's identity was nearly indistinct from its better-known neighbor, Dupont Circle. In recent years, however, it has shed the nickname "Dupont East" and emerged as a thriving community in its own right.
It is easy to see why many people choose to buy Logan Circle real estate. While the arrival of Whole Foods Market is widely recognized as the main catalyst for the neighborhood's revitalization effort, the relocation of several art galleries from Georgetown and Dupont Circle has also helped elevate the neighborhood's status. Logan Circle real estate includes many restored Victorian brownstones which once housed prominent Washington, D.C. residents such as boxer Jack Johnson, educator Mary McCleod Bethune, and musician Duke Ellington.
Today, Logan Circle real estate is home to a popular shopping destination, whose main commercial corridor along 14th Street is lined with boutiques, galleries, and bookstores. Its vibrant nightlife is also a major attraction, luring many young professionals to invest in Logan Circle real estate.
Kalorama
For the perfect mix of elegance and excitement, look no further than Kalorama real estate. A tidy rest only steps from Adam's Morgan and Dupont Circle, Kalorama real estate shows off its manicured gardens, marble fountains, and dignified atmosphere. The optimum location for keeping classy surroundings while still being within immediate access of greater Washington, Kalorama real estate has been home to a number of U.S. Presidents and holds 28 embassies within its boundaries.
The name Kalorama is Greek for "beautiful view." Boasting dazzling views of Washington and Rock Creek Park, Kalorama is aptly named. Competing with the view of the outside, Kalorama real estate itself offers opulent family homes and stylish condos. Home to some of Washington, D.C.'s oldest and most iconic residences, Kalorama real estate is surprisingly quiet despite its proximity to the lively Dupont Circle and Adams Morgan.
One of the most amazing things about Kalorama real estate is how it remains a private neighborhood while being incredibly convenient. Kalorama has a walk score of 86, meaning that the vast majority of household errands can be accomplished on foot. This healthy benefit makes room in the waistline and the budget for indulging in one of the 400+ restaurants, bars, and cafes within walking distance. Walkscore.com also points out that Kalorama real estate is fantastically convenient for both biking and public transit. If you're seeking the perfect combination of class and convenience, Kalorama real estate is right for you.
Penn Quarter
Penn Quarter real estate has become a popular choice for people looking to live in Washington DC. The vibrant Northwest Washington, D.C. neighborhood is one of the city's biggest success stories. In the early 1990s, this nondescript cluster of city blocks radiating northward from the Archives-Navy Memorial Metro Station experienced an unparalleled revival, thanks to the efforts of the Pennsylvania Avenue Development Corporation.
Today, Penn Quarter real estate has attracted more than 10,000 residents, and countless visitors enjoy five museums, dozens of restaurants and stores, a weekly outdoor FRESHFARM Market, an annual Arts on Foot festival, and more than 220 concerts and events held annually at the nearby Verizon Center. Anchoring Penn Quarter real estate to the north, and served by the Gallery Place—Chinatown Metro Station, is the heart of D.C.'s Asian community, Chinatown. This culturally rich enclave, with its colorful architecture and bustling nightlife, is a popular 24-hour destination among Penn Quarter real estate owners, residents, and visitors.
Shepherd Park
Located in Northwest Washington, D.C., Shepherd Park is a verdant, vibrant neighborhood whose natural beauty is enhanced by its proximity to the 1754-acre Rock Creek Park. Shepherd Park real estate choices include Colonial, Tudor, and Rambler style homes. The tree-lined streets, with names like Tulip and Spruce, are home to nearly 5,000 residents. Despite its distinctly suburban feel, the neighborhood is easily accessible by Metro; both the Takoma Park and the Silver Spring Metro Stations are within walking distance.
One of the biggest draws to Shepherd Park real estate is its elementary school, Alexander Shepherd, which boasts excellent art and music programs. Many kids walk to school in this safe, tight-knit community, a reputation that the Shepherd Park civic association, Neighbors Inc., has worked hard to earn. A fellow coalition of residents, the Gateway Georgia Avenue Revitalization Corp., is equally focused on improving the area, particularly along the Georgia Avenue commercial corridor that forms the eastern border of Shepherd Park. Real estate in this close neighborhood provides numerous opportunities for home buyers and investors.
U Street/Shaw
Despite its modest beginnings as a freed slave encampment following the Civil War, U Street/Shaw real estate in Northwest Washington, D.C. is rapidly becoming one of the most desirable addresses in the city. Its recent revitalization is attributable in large part to the 1991 completion of the U Street/Cardozo Metro Station and the ongoing efforts of civic organizations like Shaw Main Streets, Inc. Nearly 10,000 new condos and apartments have been added to the U Street/Shaw real estate landscape in recent years.
A number of new businesses along the U Street corridor have also spurred the growth of U Street/Saw real estate, as has the relocation of several Ethiopian restaurants from the nearby neighborhood of Adams Morgan. One thing that isn't new about U Street/Shaw? DC Hall of Fame eatery Ben's Chili Bowl, a popular chili restaurant and Shaw landmark that has called the neighborhood home for nearly fifty years.
Wesley Heights
If you are thinking of buying a home in Washington DC, put Wesley Heights real estate on your list of possibilities. Wesley Heights is an affluent, residential neighborhood located in Northwest Washington, D.C. It is roughly bounded by Nebraska Avenue to the north, Garfield Street to the south, New Mexico Avenue to the east, and Foxhall Road to the west. Its nearest metro station, Tenleytown-AU, is accessible by bus via the Van Ness-Wesley Heights Loop Line.
Wesley Heights real estate was first developed in the 1920s, at a time when builders began to eschew the mere layout of streets for the creation of entire communities that would blend into the surrounding natural beauty. That vision remains intact today, as Wesley Heights real estate options consist of many original single-family houses on large, wooded lots. The neighborhood's leafy streets are also home to the 0.8-mile Wesley Heights Park Trail, a cross town trail that connects nearby Battery Kemble Park and Glover Archibald Park.
Woodley Park
Woodley Park real estate offers an excellent combination of a prime central location and quiet, family friendly neighborhood. Bordered by Cleveland Park, Mount Pleasant, Adams Morgan, and Kalorama, Woodley Park real estate's leafy green streets provide a sudden change of pace from the bustle of Connecticut Avenue. In the 1800s Woodley Park real estate was a favorite summer location for the well to do, including Presidents Martin Van Buren and Grover Cleveland.
Like many neighborhoods throughout Washington, D.C., most Woodley Park real estate owners work within the city. The quality of life benefits of having such a short commute to work are particularly felt by Woodley Park residents. The majority of Woodley Park real estate owners walk less than 10 minutes to get to the metro or one of the 8 bus lines that stop in the neighborhood. Those who work in the area of Dupont Circle will often opt out of public transit, getting some extra exercise from the 20 minute walk.
The large lawns and quiet streets make Woodley Park real estate ideal for raising a family and the central location allows breadwinners to actually see their families instead of spending hours commuting each day. With quality public and private schools nearby, parents have no need to worry about their children getting a proper education. The neighborhood streets leave children plenty of room to play and there are many opportunities for outdoor recreation at the nearby Rock Creek Park and the National Zoo.
While Woodley Park real estate's public transport gives quick access to the numerous shopping and entertainment opportunities of the District, most errands can be done within walking distance of home according to Walkscore.com. So far as restaurants are concerned, a variety of international cuisines are provided within a few minutes' walk from home over on Connecticut Avenue. As for nightlife, thanks to the D.C. Circulator Bus residents of Woodley Park can go from the doorstep of their beautiful row house or brick home to Adams Morgan or the U Street Corridor in a matter of minutes.
Source: Long & Foster Living